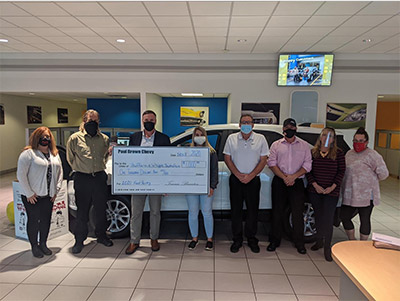 Collected monetary donations for its annual Load the Lobby campaign
OLEAN - Over the past month or so, the Buffamante
Whipple Buttafaro P.C. office on South Union Street
has quietly collected monetary donations for its
annual Load the Lobby campaign to help Olean Food
Pantry.
Early next week, the the accounting firm plans to
make a visit to the pantry and, instead of dropping off
loads of food, will provide volunteers with a $13,000
check to purchase supplies.
Ashley Greeley, administrative assistant at BWB, said
a monetary collection was conducted this year
instead of the food collection due to COVID-19
restrictions. .
"We actually only accepted money this year because
of the whole Covid situation," Greeley explained,
noting that in the past the firm has collected and
delivered nonperishable food to the food pantry.
Chris Gasiewicz joins the Orchard Park office as Staff Accountant.
Scott Reed Retires after 40 years of employment with BWB.
Jake Kohler passed CPA test.
Rhiannon Carnahan, Jake Kohler, Michael McLanahan promoted to Senior Accountant.
Lauren Bouck, Sheyenne Gallmann, Nick Hamed promoted to Supervisor.
Ryanne John, Ashlie Flanigan, Adam Batesky promoted to Director.
Luke Rogers joins Olean office as Intern.