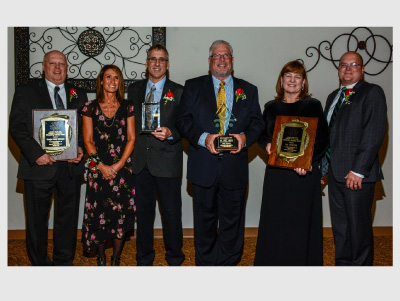 JACK WHIPPLE, CEO received this year's top honor, the L.O.U.I.E. Award.

JACK WHIPPLE, CEO and managing shareholder of accounting firm Buffamante Whipple and Buttafaro, P.C., received this year's top honor, the L.O.U.I.E. Award.

The award, which stands for "Love of Olean, United In Enterprise," is given to an individual who symbolizes the enterprising spirit for the greater Olean community, Chamber officials said.

An Olean native, Whipple graduated from St. Bonaventure University in 1977 with a bachelor's degree in business administration focused on accounting and began working for Olean accounting firm Sheeser & Co. In 1982, he bought the firm with a coworker, Steve Teuscher, and formed Teuscher & Whipple CPAs. In 1992, Whipple became the sole owner of the firm, and a year later he merged the company with then Weinaug, Benson, Buffamante & Co., P.C., another local accounting firm, to create what would become Buffamante, Whipple, Buttafaro, P.C.

Much of the firm's growth in the 25 years that followed is attributed, in part, to his leadership style, which those who nominated him for the L.O.U.I.E. described as one of positivity, tenacity, and generosity — his nomination for the award cited many examples of how Whipple has used the firm to do good in the community, including the "Stuff the Truck" campaign to benefit the area's food pantries during the holiday season. Outside of BWB, the Olean native is an active member of the community, giving his time to local organizations including to the National Exchange Club of Olean, Cattaraugus County Mental Health Association, Interfaith Caregiver's Gift Tree Program, Cattaraugus Region Community Foundation, and St. Bonaventure University.


Lauren Bouck joins the Jamestown office as Staff Accountant.
Sheyenne Hooker joins the Olean office as Staff Accountant.
Helena Payne joins the Jamestown office as Administrative Assistant.
Alexis Flint, Nick Hamed, Kaitlin McCann promoted to Senior Accountant.
Jessica Quinn promoted to Supervisor.
Danna Isaman and Justin Isaman promoted to Manager.