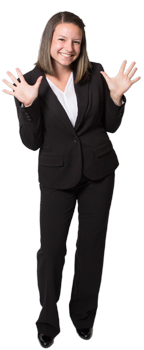 Kristin Woodhead
Staff Accountant


(716) 701-7648
klw@bwbcpa.com


As a staff accountant at Buffamante Whipple Buttafaro, P.C., Kristin Woodhead helps to compile, review and audit financial statements and perform general tax assignments.
Kristin earned her Bachelor's in Accounting from the State University of New York, Geneseo and her Master's in Business Administration from St. Bonaventure University.
Since joining BWB, Kristin realized her most prided accomplishment to date – passing all four sections of the CPA exam on the first try before celebrating her first year anniversary of working at the firm.
Fun Facts About Kristin


What is your guilty pleasure? I love binge-watching shows on Netflix! Two summers ago, I finished 10 seasons of Grey's Anatomy in a couple of months.

What is the No. 1 item on your bucket list? I would love to go on a cruise-preferably through the Mediterranean.


< Back to Team