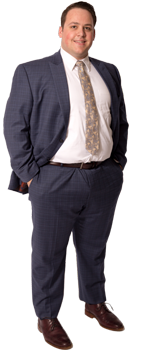 Peter Mrazik
CPA, Senior Accountant


(716) 489-2020
pem@bwbcpa.com
A senior accountant at Buffamante Whipple Buttafaro, P.C., Peter Mrazik, CPA, has corporate responsibilities to compile, review and audit financial statements, along with general tax assignments. He earned his Bachelor's degree in Accounting and Master's degree in Finance from Niagara University.  
When not working diligently to make BWB clients' lives easier, you might find Peter riding in the Tour De Cure to raise awareness for Diabetes.
Fun Facts About Peter


Do you have a hidden talent most people don't know about?  I can wiggle my ears.

What is the number one item on your bucket list?  Drive a F1 car at speed around the track.